Star Ratings CE at PFOA Annual Meeting in May
PFOA will be offering a 1.5 hour continuing education course entitled, "The Impact and Opportunities of Performance Management on Community Pharmacies" during our annual meeting in New Orleans.
The live CE will define performance management and reporting on quality as well as explain how those involved in medication management are being measured. Discussions will take place on understanding what the measures are and their impact on patient care, interventions pharmacists can make at point of care, improvements on patient outcomes and higher quality of care. The implications of the National Quality Strategy will be explained and examples of medication related performance measures and reporting of quality data will be provided.
We are fortunate to have the expertise of our speaker, Laura Cranston, Executive Director of the Pharmacy Quality Alliance (PQA, Inc.)
In this role, Laura oversees the development of medication use measures and works with organizations, including health plans, PBMS, community pharmacy organizations, employers and others to encourage the uptake and implementation of meaningful medication use measures in the marketplace. Additionally, Laura serves as the pharmacy's representative on the National Priorities Partnership, an initiative convened by the National Quality Forum. She also serves on the Quality Alliance Steering Committee.
Don't miss this opportunity to learn more about a subject essential to the success of your business. Register for the PFOA annual meeting now! PFOA Annual Members Meeting, May 15 - 17, 2014 in New Orleans, LA. for your hotel reservation click here: Hotel Registration Link, to register for the meeting click here: PFOA Meeting & Acitivity Registration
Take Action on CMS Proposed Rule Before Comment Deadline
In January CMS released the Medicare Part D Proposed Rule for 2015, and the comment period is open until March 7, 2014. The language in the Proposed Rule is currently very favorable in addressing issues important to independent community pharmacies, including allowing any willing pharmacy to participate in preferred pharmacy networks, updates of MAC pricing, mail order co-pay incentives and expansion of MTM opportunities.
Recently, there has been strong opposition to the Proposed Rule sent to CMS by many health plans, PBMs and even some U.S. Senators. In order to support and preserve as much of the proposed language as possible in the Final Rule, pharmacies need to weigh in with CMS as well.
For a sample letter and instructions on how to participate, visit the NCPA website at
http://ncpanet.org/index.php/advocacy/proposed-part-d-rule#pharmacists
PFOA Annual Member Meeting Invitation & Registration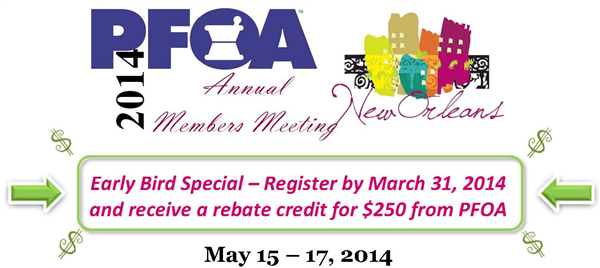 PFOA Annual Members Meeting
New Orleans, LA
May 15 - 17, 2014
Double Tree Hotel - 300 Canal Street, New Orleans, Louisiana, 70130
Read more...
Specialty Pharmacy to Account for Half of all Prescription Revenue by 2018
By Michael Johnsen as published in Drug Store News
Almost two-thirds of specialty pharmacy revenues are attributed to 1-of-3 companies, and the specialty pharmacy market is poised to explode, according to a Drug Channels Institute report released in late January.
"Three companies — Express Scripts, CVS Caremark and Walgreens — account for 63% of revenues from pharmacy-dispensed specialty medications that treat such illnesses as cancer, multiple sclerosis and rheumatoid arthritis," stated Drug Channels Institute CEO Adam J. Fein, the study's author and a widely regarded expert on pharmacy economics and the pharmaceutical supply chain. "By 2018, 50% of industry revenues will come from specialty drugs," Fein added. "Drug stores, hospitals, physician, wholesalers and health plans are all battling for position in this fast-growing market."
Read more...
February 2014
January proved to be quite a challenging month for most. Between preferred networks, negative reimbursements from various prescription plans, Obamacare implementation and more restrictions, we all have been busy.
In terms of progress by PFOA on your behalf, in January we sent out our end of year rebates to qualifying members. While they were sent out a little later than last year, it is significantly ahead of our affiliate partners. For those of you that have dual memberships with one of our affiliates you can look forward to their rebates in the coming months.
We continue to collect data on programs we plan to introduce this year such as a Star Rating program, improved regulatory program and others. I have held two face to face meetings and plan to meet with each staff member to discuss this year's focus and priorities for 2014.
Read more...
<<

Start

<

Prev

1

2 3 4 5 6 7 8 9 10 Next > End >>


Page 1 of 24